An excerpt from my upcoming travel memoir, Travel Mania: Stories of Wanderlust
On the first morning of the camel trek, I walked at the front of two parallel lines of camels. A gentle Moroccan camel tender led each line, singing and chanting, as our group of eight headed into a sea of sand. The soothing rhythm of the camel tenders' voices calmed the animals, and me too. At regular intervals, one or the other would turn and ask me, "Ca va?" How are you? At my hearty "Bien," they would smile and return to their song. None of the rest of our little band uttered a single syllable. In the intense heat of that day in June, 1999, speaking would have required effort and energy.
Two hours later, wiping stinging beads of sweat from my eyes and blinking in the blinding white rays of the sun, I wondered why I'd agreed to this trip. Maggie's suggestion of a trek in Morocco had sounded exciting. But then I'd agreed to it on a frosty February day in New York. The one condition I'd set was that I wouldn't ride a camel. I'd been on a camel once, for about twenty minutes; the movement both scared me and got me queasy. After I dismounted, I'd kissed the ground.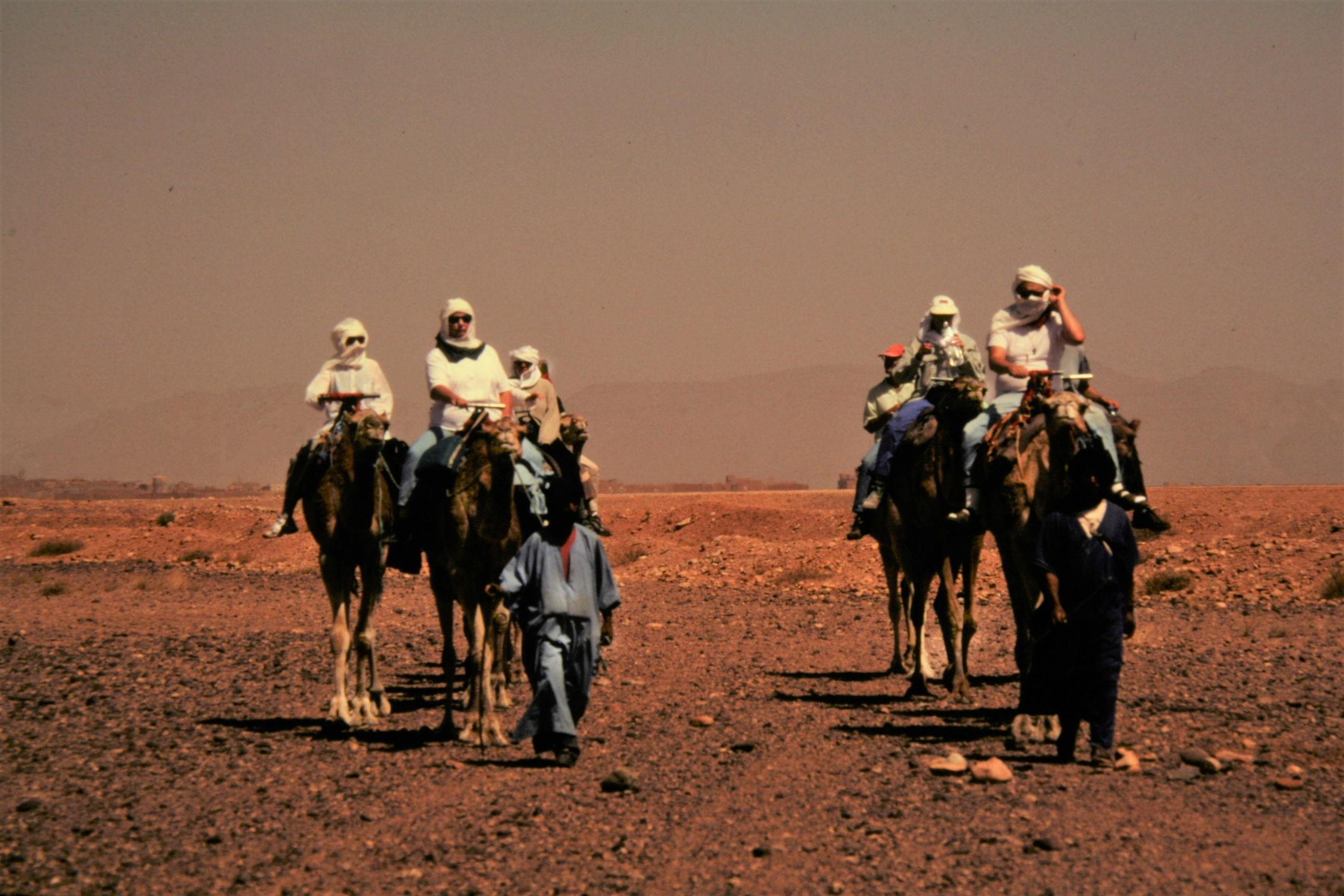 We'd set off on the five-day trek from Zagora, a small village at the edge of the Atlas Mountains. The guide insisted on bringing a camel along for me, "In case you decide to ride. It is very hot this time of year." He'd been certain that at some point during the five-day trek, I'd change my mind. I knew that no matter how hot it became, riding a camel wasn't an option.
Others in the group would sometimes walk a little way with me, but they had a tough time maintaining my pace. I was a woman on a mission. My goal: to escape the heat as quickly as possible. I strode briskly, fantasizing about blizzards, the Swiss Alps, the over-air-conditioned office in which I used to work, walk-in freezers. I cursed Maggie for suggesting this adventure. I cursed myself for agreeing to go.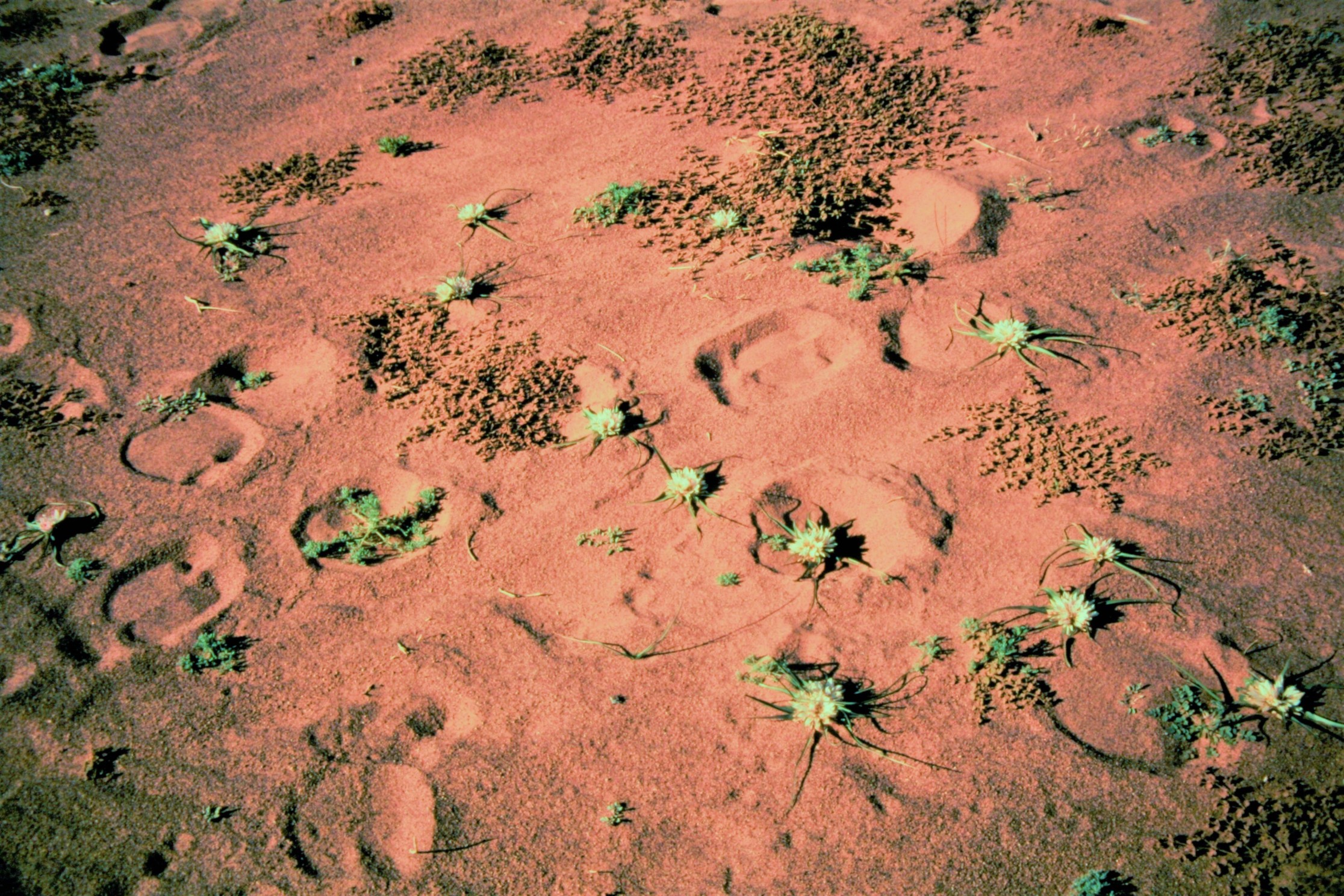 Despite my grousing, the desert captivated me. Over the next few days I tried to identify tracks in the sand: camels' huge cloverleaf, barefoot human, donkey, Land Rover, Nike & Reebok, fox, iguana, dog, and a long slithery snake trail. The texture beneath my feet changed as I strode along. In places the sand was hard-packed, almost concrete-like, and scattered with small pebbles which made it the best surface for walking. More challenging were little tuffets formed by a mixture of salt and sand that crunched and collapsed when stepped on.
The soft, powdery sand was the prettiest to look at, but tough terrain to negotiate. My feet would sink deep into it; each step required effort and deliberation. Trickier yet were the areas thickly strewn with large rocks. In those areas, each step was a battle against a sprained ankle. Even the camels slipped and slid. The guide quipped, "We call the country Morocco because there are "more rocks" in Morocco."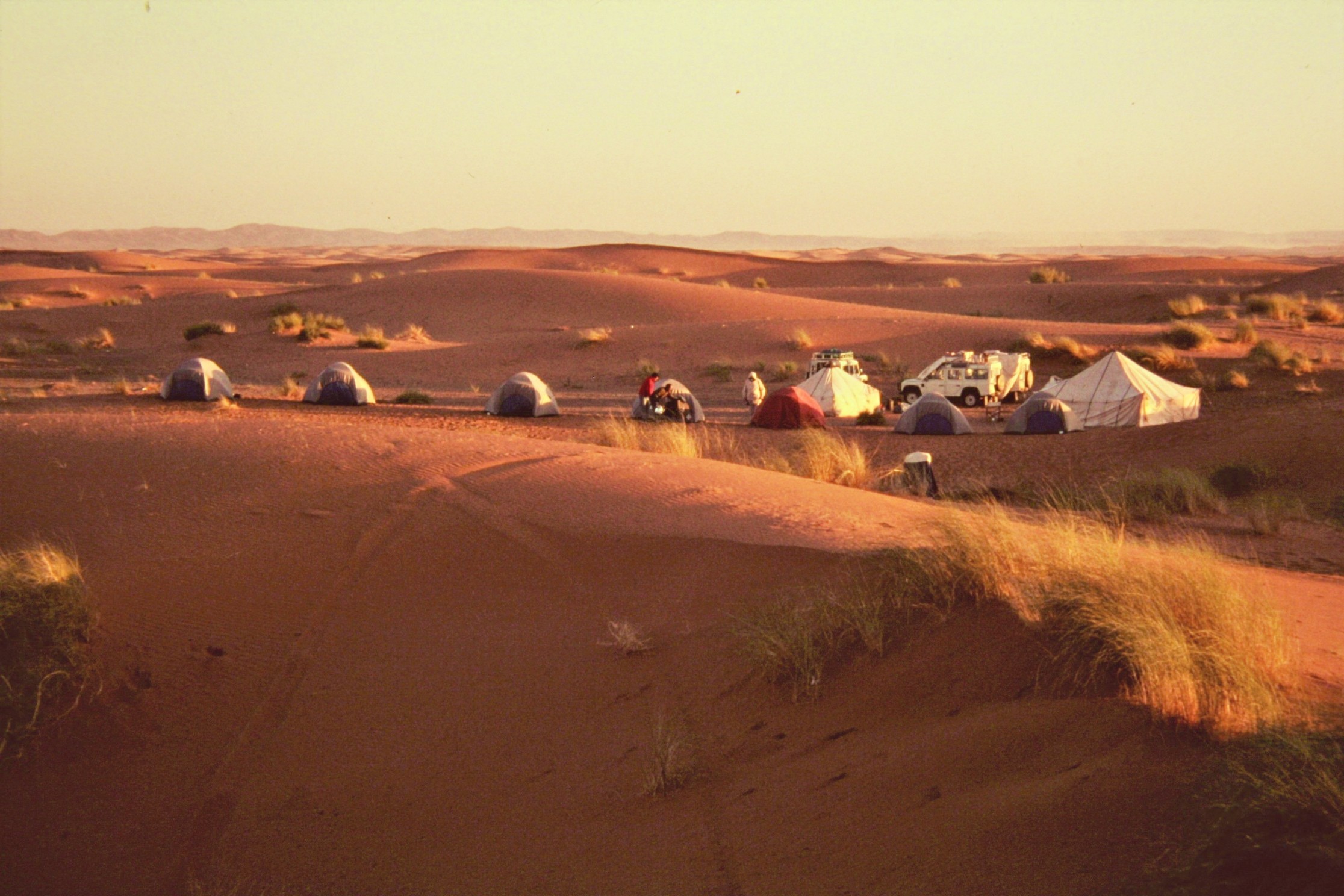 As I slipped out of the tent on the fourth morning and watched the day begin, sunrise reflected on a cliff passed from deep rust, through rose and peach, to dusty white when the sun was fully up. The camels wandered in from who knows where for breakfast. In the brilliant early light, their hides looked gold, flecked with deep brown. Some had eyelashes an inch, maybe even two inches, long. They arranged themselves in a circle, and began munching, chomping, and chewing oats.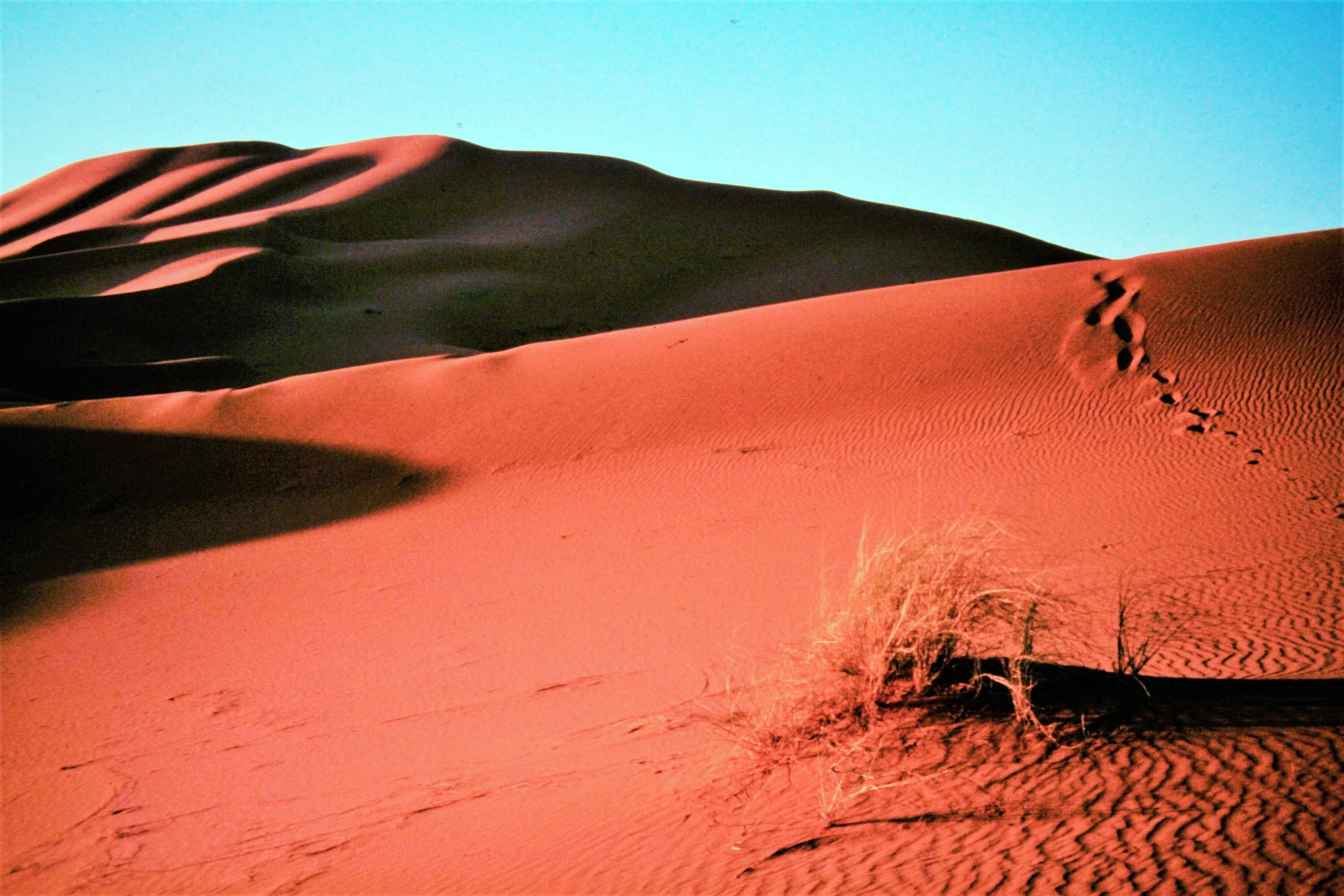 The fifth day, our last, we camped on the far side of the oasis just beside a high dune. By the light of the moon, Maggie and I climbed to the top. Below, the sand was silver. Above, endless stars sparkled. We lay down on the soft surface, sunk in slightly, and stared at the sky. Every now and again a shooting star streaked by. We didn't speak. My mind filled with vivid images of the beauty I'd seen—dunes that looked as though they'd been sculpted by Brancusi. Vast blue skies. Smiling camels. Sunsets that turned the sky blood red. I wanted to fix those images in my mind.
Finally, I broke the silence. "Thank you for inviting me."